Self Defense
Training Books
Self Defense and Martial Arts eBooks - $4.99
(Instant Download*)
This collection of martial arts and self defense ebooks features the training methods and techniques from the US Military, Canadian Armed Forces, A.C. Cunningham, a boxing manual and the martial arts training techniques of the great Bruce Lee. This ebook package is just $4.99 and is available through instant download (*Please
contact us first
if you have problems downloading the ebooks).
The techniques in these ebooks constitute Self Defense 101 that both women and men can learn to protect themselves
.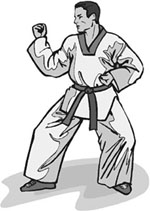 This downloadable package (link will be emailed within 48 hours) includes the following Self-Defense guides:
Hand to Hand Combat
- Focuses on basic instruction, safety precautions, throws/takedowns, choke holds, grappling, short punches and strikes, striking principles, kicks, defense against a knife, knife to knife combat, vital targets/pressure points and rope combat.
Close Quarter Combat
- This military manual delves into the principles of unarmed combat, stances and postures, kicking, punching, blocks, elbow and knee strikes, holds and counter moves, knife fighting, bayonet/stick fighting, vulnerable body parts, and basic training drills.
Martial Arts Training
- The United States Marine Corps martial arts training manual teaches you how to use combat perfected techniques for personal self-defense.
Bruce Lee's Speed Training and Strength Training
- These two ebooks focus on the master martial artist's legendary techniques and training methods. They delive on Bruce Lee's unique take on physical training and his martial arts drills.
Boxing
- The Boxing Basics Manual teaches the scoring system, handwrapping, shadow boxing, sparring, jumping rope, fitness, stance, footwork, left jab, straight right, left hook, rules for punching, defense, and preparation for a boxing match. Its material is relevant for both the boxing pupil and for honing your self defense skills.
The Cane as a Weapon
- This classic 1912 book by A.C. Cunningham examines the use of a cane as a self defense weapon. The techniques can easily be extrapolated for use with any other stick based weapons.
Buy this package now for just $4.99 and learn to defend yourself today! Perfect for both men and women.
All sales are final, there are no returns or refunds. *Please
contact us first
if you have problems downloading the ebooks.